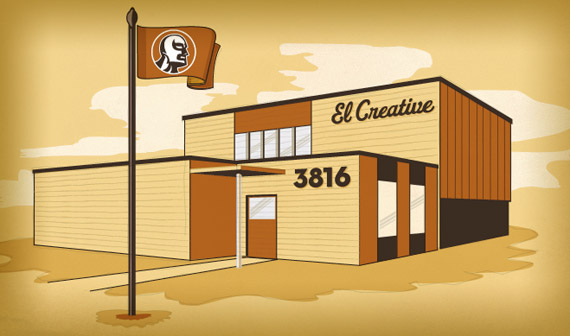 Our Purpose
El Creative is a multi-disciplinary Graphic Design and Marketing Communications firm in Dallas driven by its passion for design, strategy, and true client service. We understand that its our responsibility not only to provide your company with a unique and memorable identity, but more importantly to help make your business a success. Our objective is to produce visually stunning creative work that hits your consumers like a ton of bricks, leaving you looking like a champion.
Our Capabilities
People often call and ask us exactly what it is we do. The conversation usually follows a model similar to this: We will begin to tell them that we can handle anything from design, identity, brand strategy, and advertising, to music, radio production, promotions and printing. Then we realize that there's no way we can give a more succinct answer than this: We do everything. This may be a bit of a stretch, but not by much. Anything that promotes, manages, or communicates your service offerings to the public falls within our realm of expertise.
Our Story
The story of El Creative is one of myth, madness and groundbreaking visual communication. Trained in the mountains of Mexico under the cruel and harsh tutelage of Mil Mascaras and El Santo, the guys of El Creative have honed their design skills to lethal precision. Now, fate has led them to the brutal barrio of Deep Ellum, where they must make their fortune in the squared circle. Some of their ring experience includes Wingstop Restaurants, Toyota, Office Depot, City of Dallas, Dallas Concilio, CareNow, Bimbo and Universal Music to name a few. They're poised and ready to take on all who dare enter their domain. So keep a watchful eye out for these masked men. ¡Viva El Creative!